Voices of Innovation
Insights from the companies featured in
Innovation Momentum 2023: The Global Top 100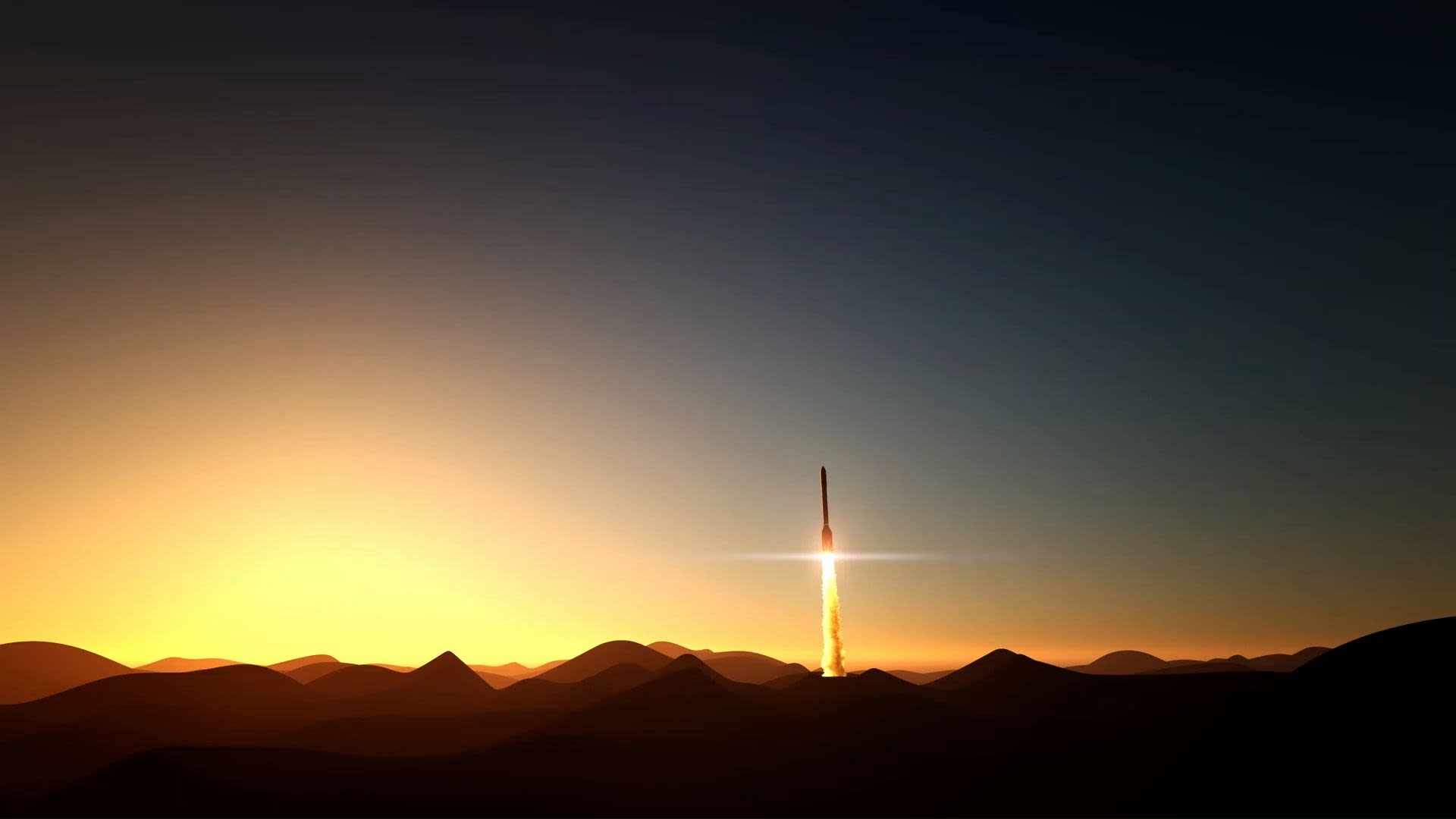 We recently published the second edition of our Innovation Momentum Report, which lists Top 100 global companies that we found to have the most innovation momentum in the world. The report is based on Patent Asset Index—a scientifically developed measure of innovative strength developed by LexisNexis Intellectual Property Solutions to evaluate innovation by analyzing patent metadata.
We spoke to leaders from some of the companies featured in the Top 100 to get insights on their success. One of the main factors they emphasized is the capacity to tackle new challenges each year with innovative ideas and processes that enabled them to build a culture of innovation, from ideation to execution. Scroll on to learn more about these highly innovative trailblazers.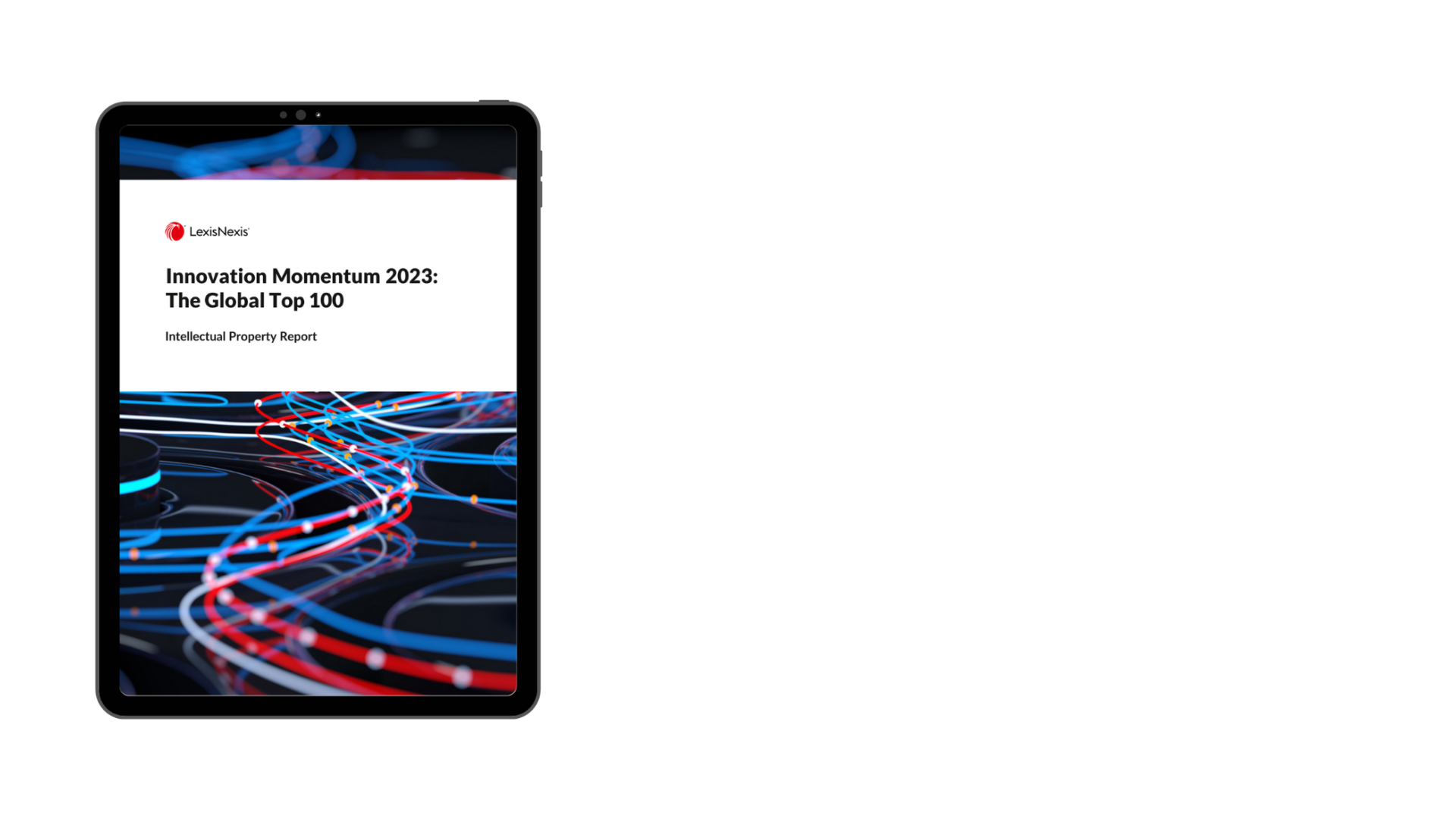 IP strategies that guided the winners on their path to the Top 100 Innovators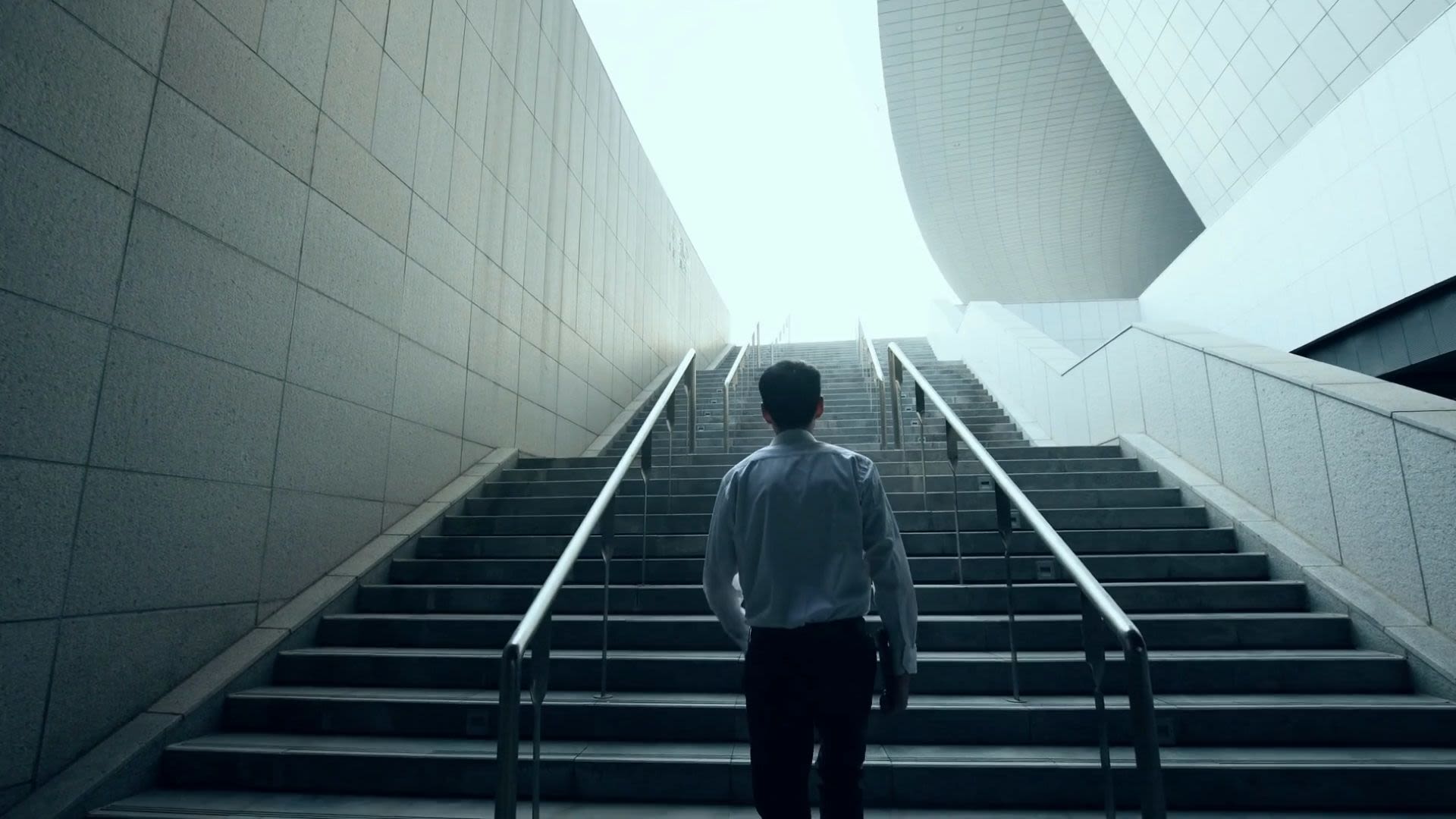 OFINNO
Top 100: 2022 & 2023
Getting the right people in place, putting them in the right environment, and designing the proper process to ensure they are poised to achieve greatness.
Ofinno is a research and development lab specializing in inventing and patenting future technologies. Some of the technologies they develop include improving LTE-Advanced performance, introducing IoT features, enabling New Radio for 5G, empowering 5G core networks, and connecting Vehicles to Everything.
Overview of patent portfolio: They manage a patent portfolio that includes more than 450 patent families and patent applications focused almost entirely on technologies in the telecommunications field.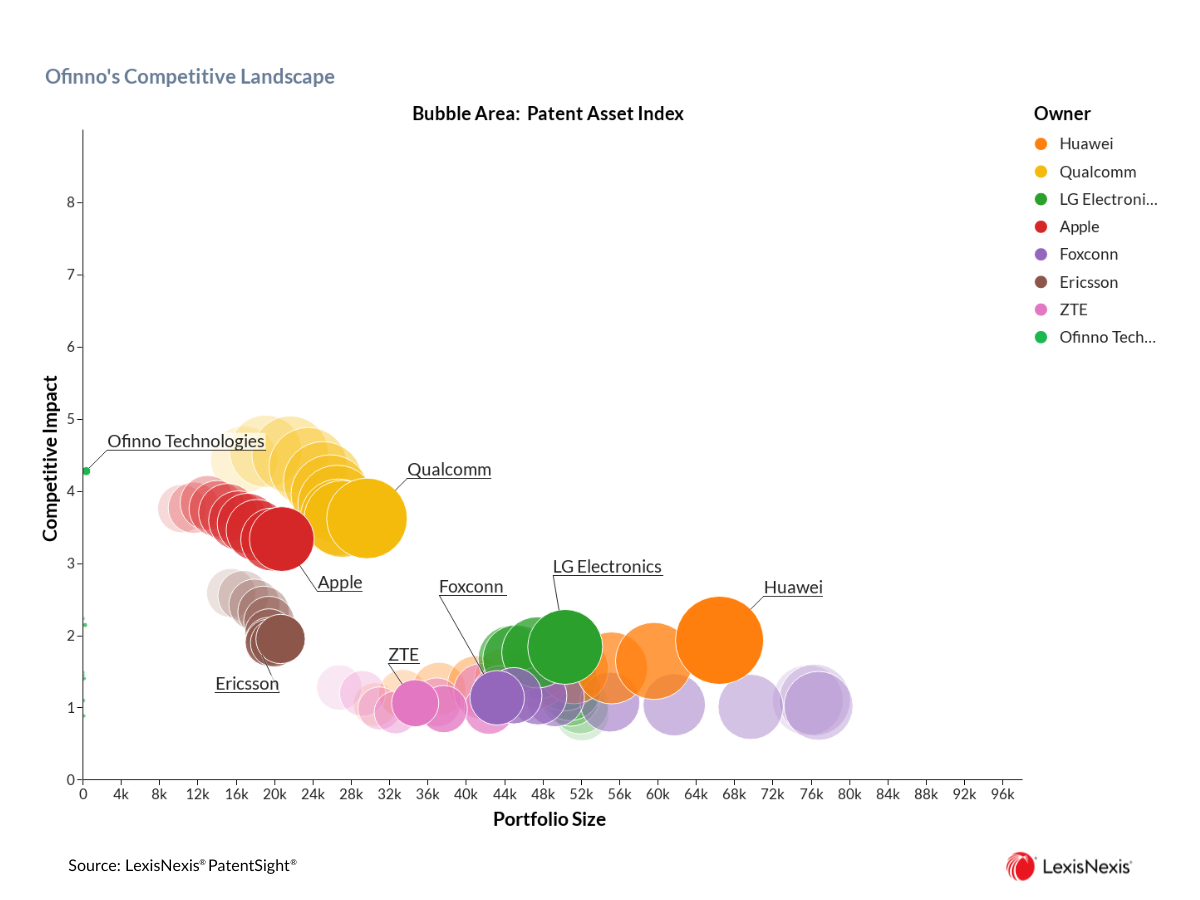 The horizontal (X) axis shows the number of patent families in each company's patent portfolio.
The vertical (Y) axis shows the average quality of the portfolio, as measured by our proprietary patent quality metric Competitive Impact.
Overall, this chart represents Ofinno's competitive landscape in a comparative plot of their portfolio quality and development versus their peers. The bubble trail shows the trajectory of each portfolio's development and the size of each bubble represents the strength of each portfolio as measured by our scientifically validated metric Patent Asset Index.
It becomes clear in this chart that although Ofinno owns a portfolio considerably smaller than their competitor's, the reason why they were on the Top 100 list is the high average quality of their innovation; indicated by their bubble marking a high Competitive Impact value.
A more detailed explanation of the Patent Asset Index and its components can be found at the end of this article.
MEDTRONIC
Top100: 2022 & 2023
We incorporate our mission into our IP strategy by ensuring that the budget for IP is proportional to the budget for R&D. Thus, we can capture all the great inventions and protect them in the most impactful markets.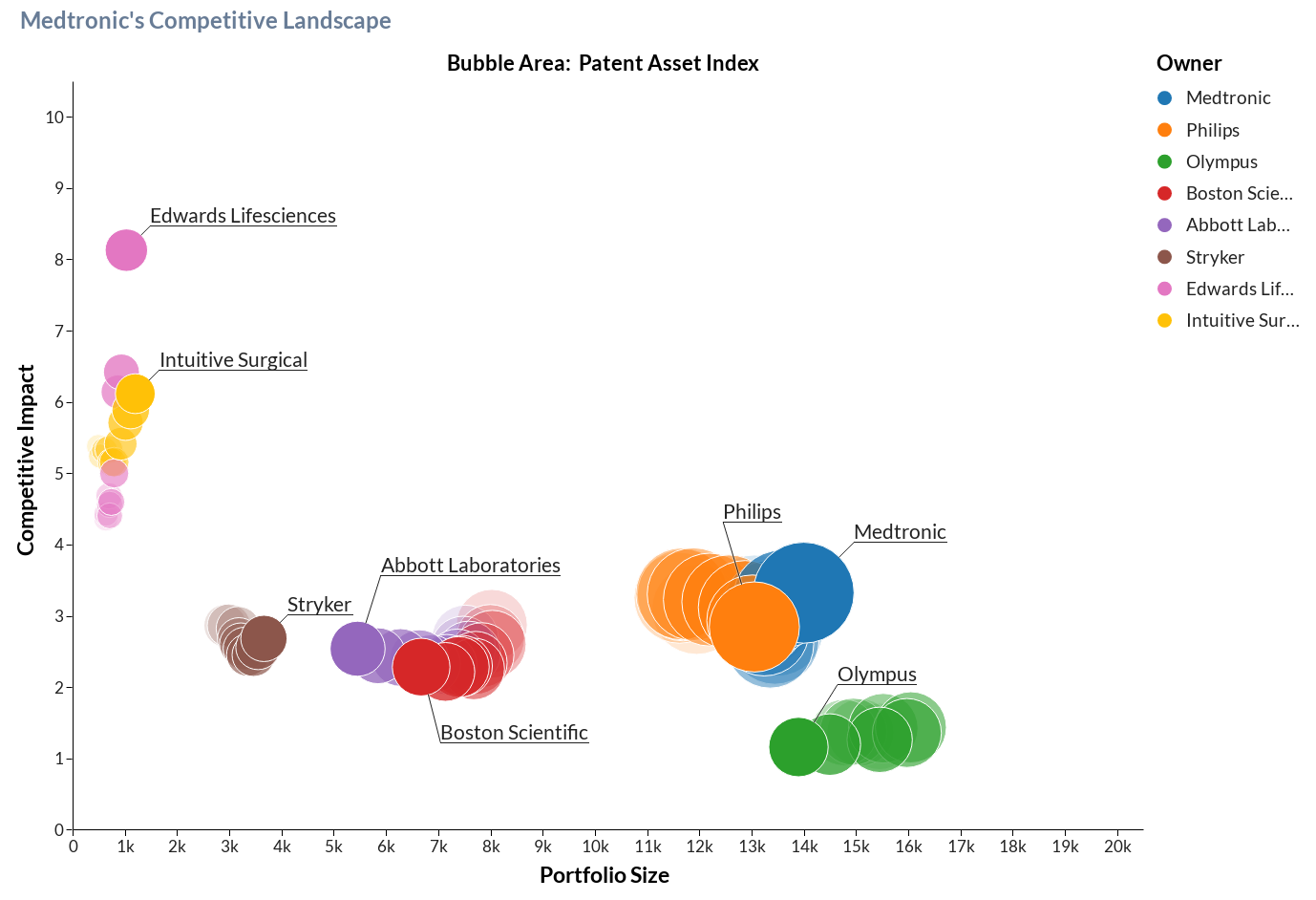 Medtronic develops groundbreaking healthcare technology solutions for the most complex and challenging conditions. From less-invasive surgical approaches for minimizing a patient's downtime to creating the smallest pacemaker, their inventions are revolutionizing the medical technology industry.
Overview of patent portfolio: Their portfolio comprises over 14,000 patent families, with a focus on technologies around endoscopes, cannula, and cardio-vascular measurement devices.
Since our founder is a serial inventor, 4Catalyzer already has a firm IP focus built into its overall strategy.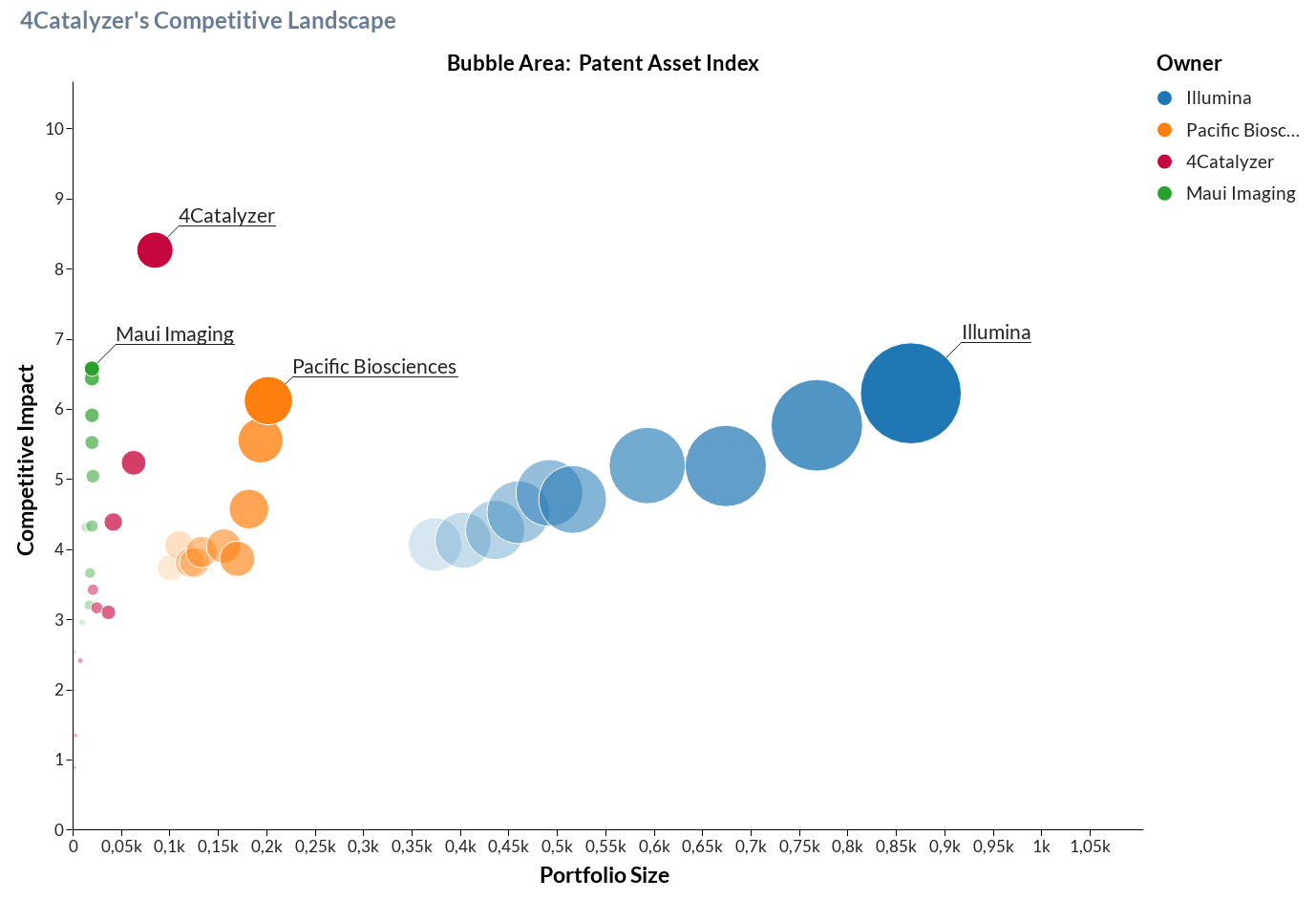 4Catalyzer's mission is to strive to transform 21st-century medicine by solving today's most challenging problems – across life science research tools, medical devices, and therapeutics. They work with startups operating at the intersections of medicine, engineering, and machine learning to achieve this. The startups get a dedicated space, and the 4Catalyzer team works intimately with them to support them strategically, administratively, legally, commercially.
Overview of patent portfolio: Their current portfolio consists of less than 100 patents of which about 90% are related to healthcare, medical measurement and computation technologies.
Company leaders on making it to the Top 100 Innovators list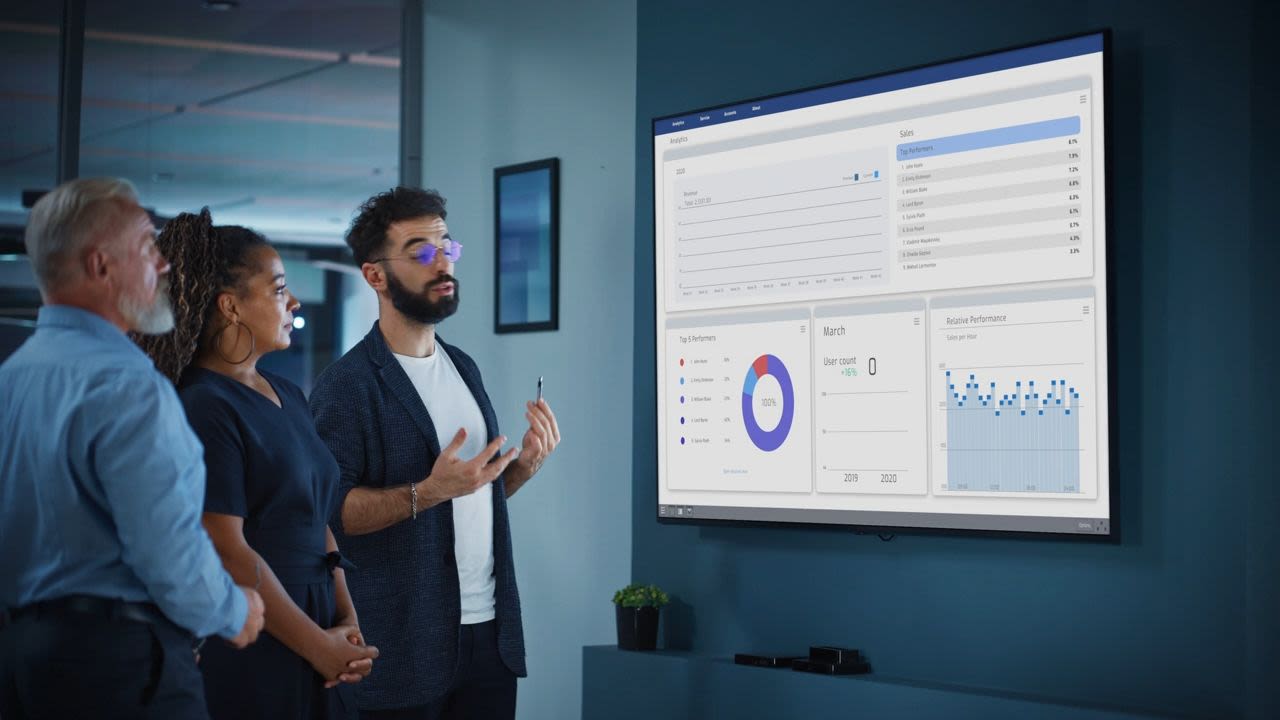 INTERDIGITAL
Top 100: 2022 & 2023
This report is very helpful and particularly gratifying that quality factors are included in the analysis. That gets a little frustrating when we see reports just listing numbers of patents in a particular area. Those reports that list patent numbers effectively minimize any work we may do to distinguish ourselves on quality, which happens to be where we spend a lot of our time.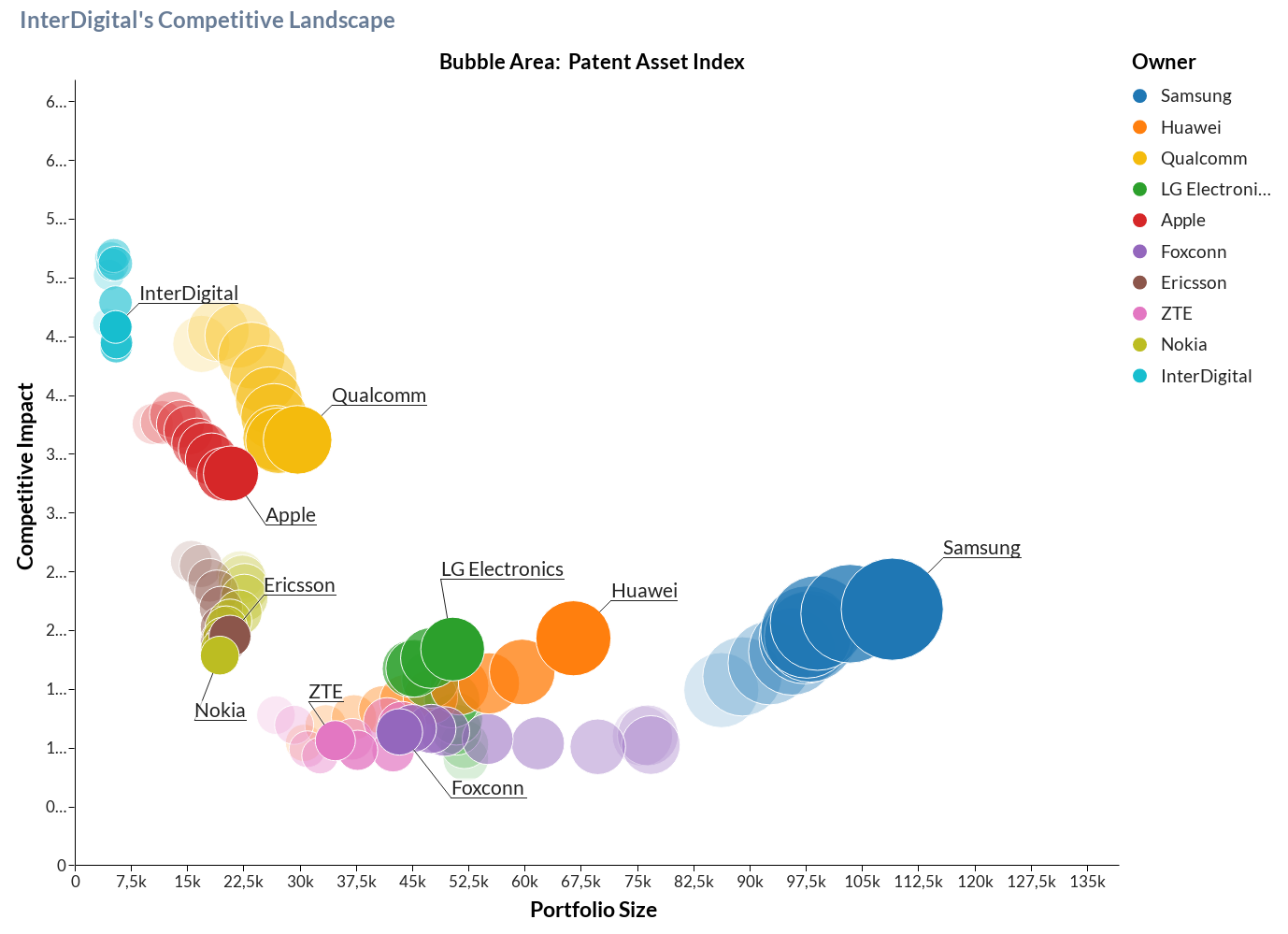 InterDigital is a technology research and development company that provides wireless and video technologies for mobile devices, networks, and services worldwide. Their products and technology range from semiconductor devices; integrated circuit baseband chips to digital telephone platforms and related software platforms.
Overview of patent portfolio: About 80% of the InterDigital portfolio of a little over 5000 active patent families is focused on the telecommunication field with an equal focus on television systems, transmission and wireless technology.
INFINEON
Top 100: 2022 & 2023
We certainly use the report for benchmarking since we know the analysis is based on well-tended ownership data. It is necessary to reflect on the impact of past decisions on the portfolio in order to prepare for the future. That is not easy in a quickly changing industry with a lot of acquisitions, mergers, etc.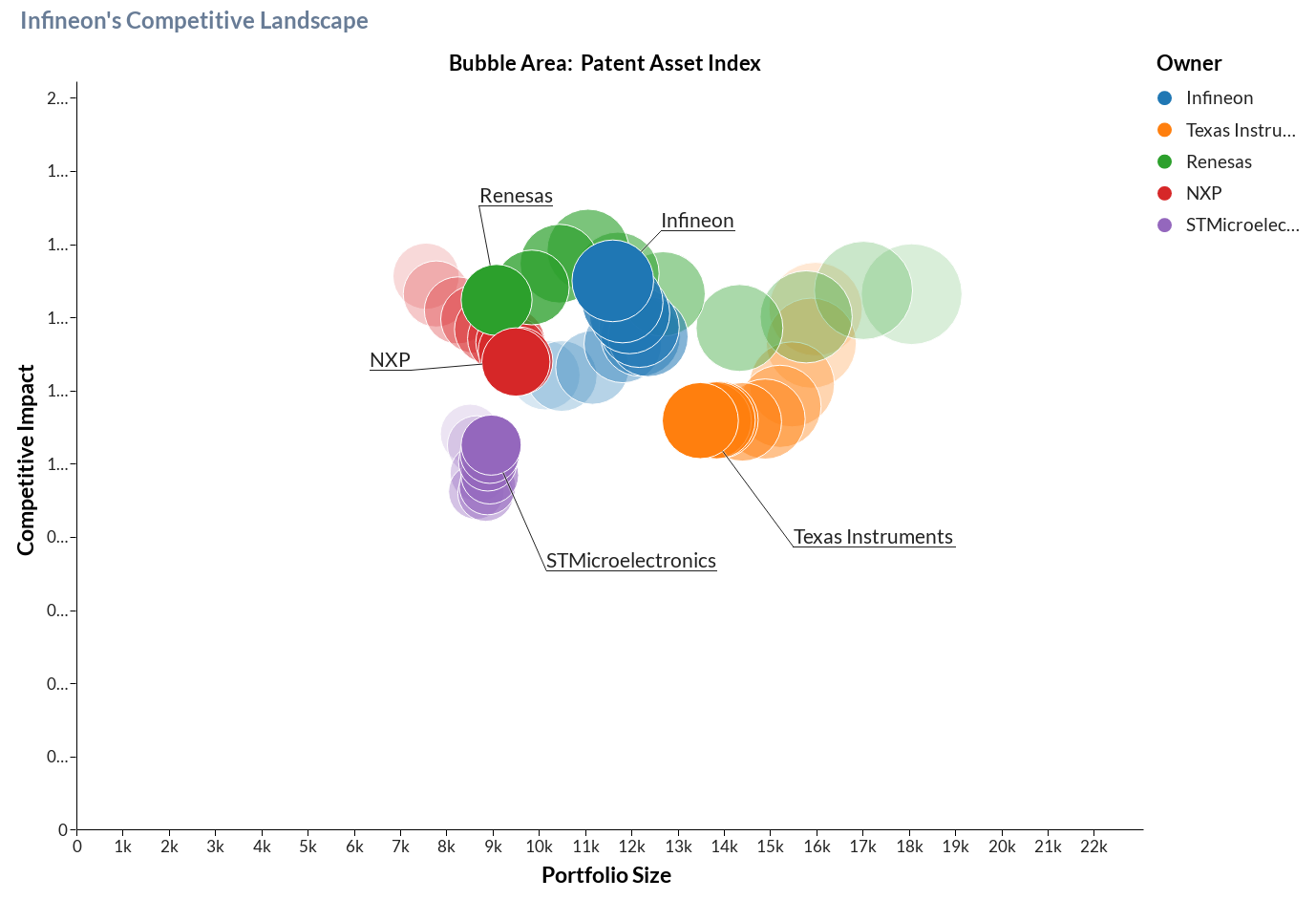 Infineon Technologies AG is one of the world's leading manufacturers of semiconductors. The group's products include power semiconductors, sensors, microcontrollers, digital, mixed-signal and analog ICs, power transistors, voltage regulators etc. Their innovative solutions are deployed across industries including automotive, power and sensor systems and connected secure systems.
Overview of patent portfolio: 60% of the Infineon portfolio is focused on protecting innovations in electronics and about 30% on technologies like digital measuring, computation etc. In all, they have a portfolio of over 10,000 active patent families.
MURATA MANUFACTURING
Top 100: 2022 & 2023
Thank you very much for your high evaluation of our company in Innovation Momentum. We are honored to receive this award, which recognizes our technological development and intellectual property capabilities. We will continue to promote strategic IP activities while utilizing LexisNexis® PatentSight® and provide unique products and technologies for the betterment of society as an innovator in electronics.
Murata Manufacturing is another company that has a strong focus on innovation in the electronics technology space. Murata is primarily involved in the manufacturing of ceramic passive electronic components, primarily capacitors, and has an overwhelming market share worldwide in ceramic filters, high-frequency parts, and sensors.
Overview of patent portfolio: With a portfolio of close to 15,000 patent families, which consists of close to 80% patents in technologies related to electronics, Murata Manufacturing clearly puts most of its innovation potential into this space. Their remaining portfolio is split among Information, Telecommunication, Physics, Chemistry, Fabrication, Healthcare, Machines and Transportation technology fields.
NITTO DENKO
Top 100: 2022 & 2023
Nitto Denko Corporation manufactures and markets a wide range of chemical products which are used as materials for industrial and electronic components. The company's commercial activities include manufacture and sale of adhesives, optical films, semiconductors, electronic devices, and consumer products.
Overview of patent portfolio: Nitto Denko's patent portfolio of a little over 7000 patent families contains a more even mix of technologies like Chemistry (30%), Physics (30%), Electronics (15%), Fabrication (10%). Their innovations do seem to focus on technologies related to adhesives and optics.
As our goal is to impress our customers through innovation, we are delighted to receive this award for the second year in a row, selected based on the Patent Asset Index that enables us to visualize our technological development capabilities. We will continue to pursue our daily IP activities in an honest manner.
What is the Patent Asset Index?
The Patent Asset Index is a scientifically developed objective measure used to evaluate innovation in LexisNexis® PatentSight®.
Our research has shown that the value of a patent depends mainly on two factors: other patents being filed that build on the technology protected by the patent in question and the geographical scope of patent protection. Simply put, a patent is considered more impactful when it leads to further inventions and is protected in multiple authorities. Patent Asset Index is measured based on two separate indicators, Technology Relevance and Market Coverage.